December 9, 2021
The most innovative bidding hall in the Netherlands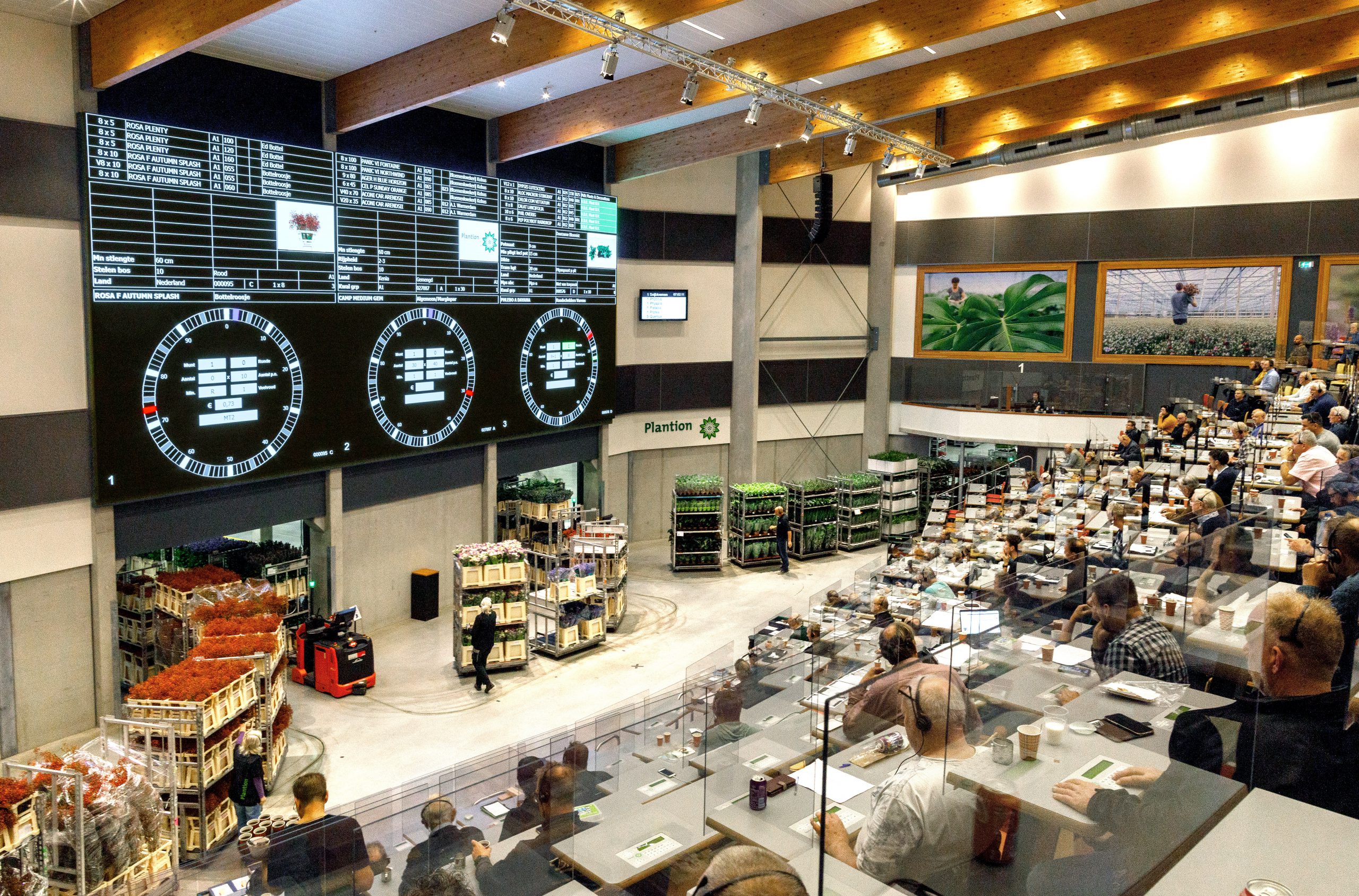 Thanks to the brand-new LED screen measuring 14 by 6 metres, the auction clocks, photos and videos can be seen in razor-sharp detail at Plantion. The screen is a spectacular improvement and provides an extra experience in the bidding hall. Plantion's facility manager Gerco van de Hoef worked with the Belgian company Aucxis for the delivery of the screen and the installation of the software. An exciting job.
"The old beamers in the bidding hall were written off and we had to make a choice: new beamers or one large LED screen," says facility and logistics manager Gerco van de Hoef. "We opted for LED as we wanted to show that Plantion is innovative and will continue to invest in physical auctions. An LED screen shows a much sharper image and is a lot more pleasant to watch. And you can show all kinds of other things on it as well."
Many possibilities
For the purchase and installation of the LED screen, Plantion turned to Aucxis in Belgium. Patrick Bauwens: "After Plantion had made the choice for LED, the next question was whether it should be three separate screens again or one big one." It became the latter. "Such a large screen offers many possibilities for additional commercial information, both during the auction and the breaks. In addition, the room can now be used for other meetings, with speakers connecting laptops to the LED wall. And you can even show Formula 1 or a Belgium-Dutch football match on it," he says with a broad smile. Due to corona, the screen arrived a little later than planned. The port of departure in China was closed for four weeks. Then the ship with the Plantion screen ran into a traffic jam in the Suez Canal and there was another jam of container ships in Antwerp.
Great challenge
In the meantime, the mounting points for the 5,724 kg heavy screen were installed in the bidding hall. In mid-October, the time had come and the building up at Plantion could finally begin. Patrick Bauwens: "It consists of individual LED modules that are mounted together by magnets on a metal frame. We first built up a section, so that Plantion could test one clock. After their go, we did the rest." The last phase in particular was a great challenge. Aucxis came to Ede with ten men to get the job done in a weekend. "After the auction on Friday, we broke down the old system and started building up the new one. We have a lot of experience, but this was exciting. On Monday morning, 25 October, everything had to work. The auction cannot come to a halt."
Response time
Besides a sharper and more beautiful image, LED technology also brings about another change for buyers. The response time of the button for stopping the clock differs by a fraction from the old system. "It's about milliseconds and the clock buyers will have to get used to that," says Van de Hoef. Bauwens: "Our experience is that buyers quickly get the hang of it and anyone can use it after some practice."
Live stream
Van de Hoef is proud of the result: "We want to be the most beautiful and innovative auction room in the Netherlands. The LED screen is important in this respect, but it is not the only change. The hall has also been completely painted, the auctioneer has been given a new workstation and four cameras have been installed for a live stream of the auction. We invest in the physical clock, but we also want to make buying from a distance more attractive. Our KOA customers are excited: they can experience the auction as if they were there in real life!"