December 6, 2021
Regional meetings: useful and enjoyable!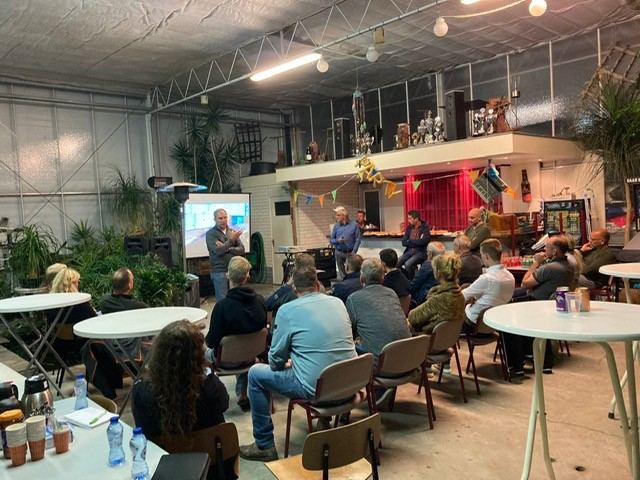 In a year during which events were under a magnifying glass, Plantion managed to safely organise a number of regional meetings. An important step towards more involvement between members, guest members and marketplace Plantion.
"We want to show our members and guest members in which direction Plantion is headed and we also like to hear what is going on among our members and guest members. That is why we organise regional meetings," Mariska Maasse of the Involvement project group explains. The meetings were well thought-out in terms of the way they were organised: always at a (guest) member's premises, a tour of the company, a programme filled with short presentations, a longer informal part and delicious soup and rolls from Plantion's in-house caterer Robert Schreiner. In short: useful and enjoyable!
Well visited
On 24 June, the Arnhem/Nijmegen region had its first meeting at Willemsen-Weijs in Gendt, the company of our chairman René Willemsen. In September, meetings followed in the ApeldoornZutphen region at Kwekerij Jan Hartink in Twello and in the Northern region at Kwekerij Bernhard in Luttelgeest. In October, we were guests in the middle of the Netherlands at Topline Gerbera in Tuil and in South-Holland at Royal Roses in Leidschendam. Mariska: "The meetings were well attended and conducted in a pleasant atmosphere."
Space for criticism
Looking back, a first cautious conclusion is that members and guest members feel at home at Plantion. There is also room for a critical voice. Mariska: "There is a need for more contact from Plantion, the clock supply must improve and there must be more focus on the mediation of cut flowers. It's nice to hear these comments, because at Plantion, we want to do the best we can for our members and guest members."
Questions and suggestions
Important questions are also asked about Plantion's plans for the coming years. How will Plantion finance the innovations? Doesn't opening up the Clock Presale have any further negative effects on the clock presentation? And there are some good suggestions in there as well: show buyers where a product comes from, provide a notification when a cart has been sold, ensure a timely follow-up of retiring employees, market products through more than one channel.
If you have a question or suggestion, you can always ask your relationship manager or send an e-mail to cooperatie@plantion.nl. We would love you to!
Council of the Future
What will the ornamental plant cultivation world look like in, say, ten years' time and what does this mean for Plantion? Will there still be a need for a physical marketplace or will everything be digital? How can we renew the cooperative form of governance? What steps should Plantion take when it comes to sustainability? The Council of the Future will reflect on such questions and provide advice. Plantion has approached approximately twenty growers, employees and customers up to the age of 40 for this purpose. The intention is for the council to meet three times a year at Plantion or at an inspiring location elsewhere. The first meeting was on 11 November. Information about the Council of the Future via Mariska Maasse or Ellis van Verseveld: cooperatie@plantion.nl.