October 25, 2021
Plantion invests in future physical auctions with LED screen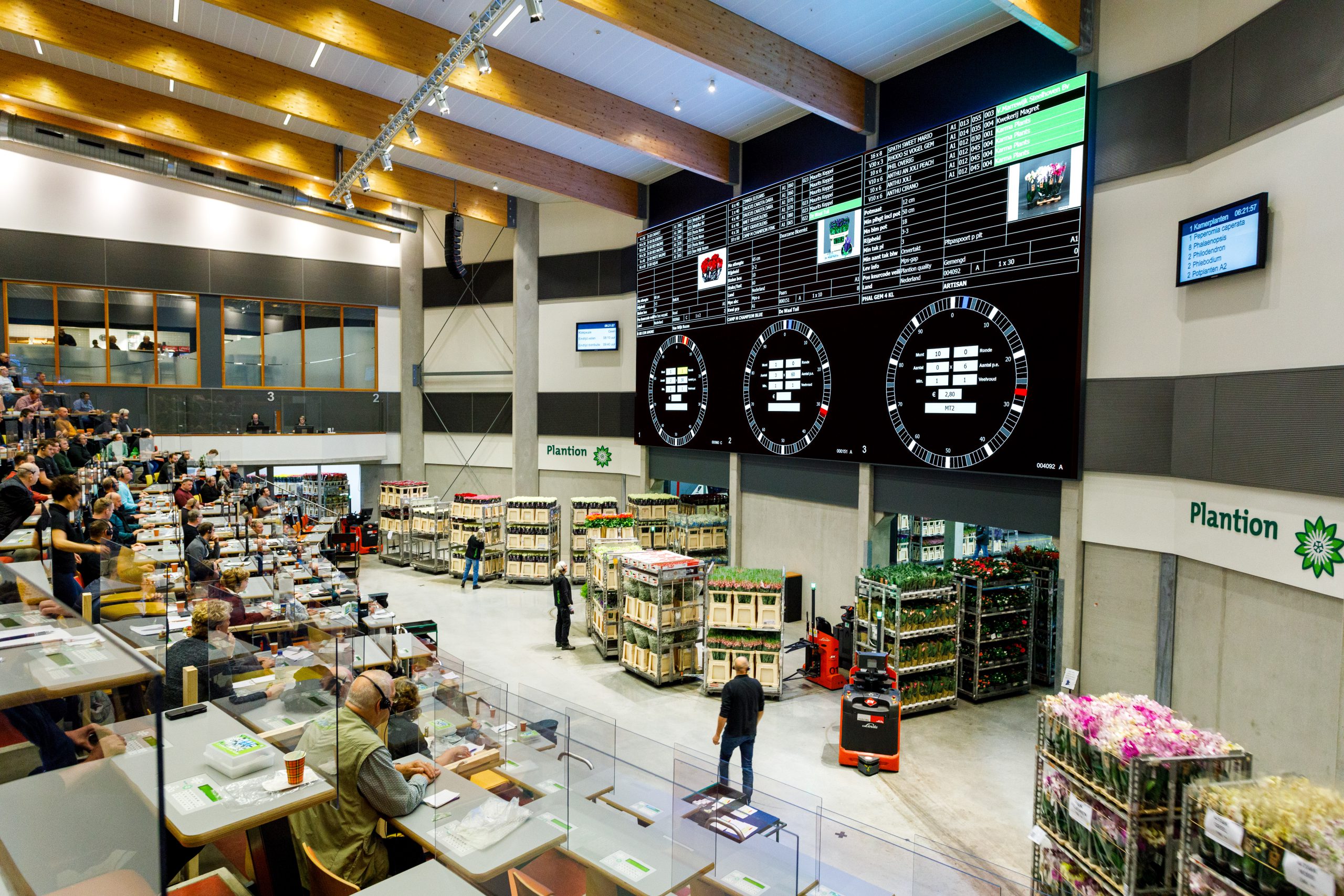 With a new LED screen of 84 m2 in the bidding hall, Plantion continues to believe in the power of physical auctions. Plantion also expects online services to grow over the coming years. But retailers and wholesalers also want to "see, smell and feel" the products, meet colleagues and find inspiration at the marketplace. The spectacular LED screen went up this morning.
The high-quality LED screen is a first step in the overall innovation of the marketplace that Plantion is planning to implement. Plantion invests in innovative services, better facilities and more added value for both retailers and wholesalers. The aim is for every customer to be able to visit Plantion 24/7, with complete freedom of how to buy and which extra services to choose. Plantion puts together the menu, the customer chooses. This serves to increase the purchasing power of the marketplace by 10 percent annually in terms of turnover and sales.
Additional features
In the bidding hall, Plantion's three clocks are now shown on one large LED screen in a much higher image quality than what the buyers were used to. The high resolution (over 5 million pixels) in combination with the large screen area (14 x 6 meters) also offers many additional possibilities. There is plenty of room for information and inspiration in the form of product photos, videos about a specific supplier, weekly novelties and all kinds of other (commercial) messages.
Most innovative bidding hall
Facility and logistics manager Gerco van de Hoef: "We want to receive our customers in the most beautiful and innovative bidding hall in the Netherlands, allowing for a great presentation that does justice to the amazing products of our suppliers. The LED screen greatly enhances the experience and helps us to future-proof physical auctions. We also stream live video to our Remote Buyers daily. As a result, the remote experience is pretty much the same as it is for the buyers in the stands."
Mega job
The Belgian automation company Aucxis, specialised in auction and other sales systems, supplied and installed the LED screen. Upon its arrival in the port of Antwerp, the screen was tested at Aucxis and then assembled at Plantion. Business Unit Manager E-Trade Patrick Bauwens: "The screen consists of a large number of individual LED modules with magnetic feet that we have mounted on a metal frame counter to each other on site. We started with one part, so Plantion could test with clock 3. Since auctioning must always go on, we converted the rest in one weekend. This was really a mega job for us as well."
View all photos here.