November 25, 2021
Wholesale centre Plantion is the future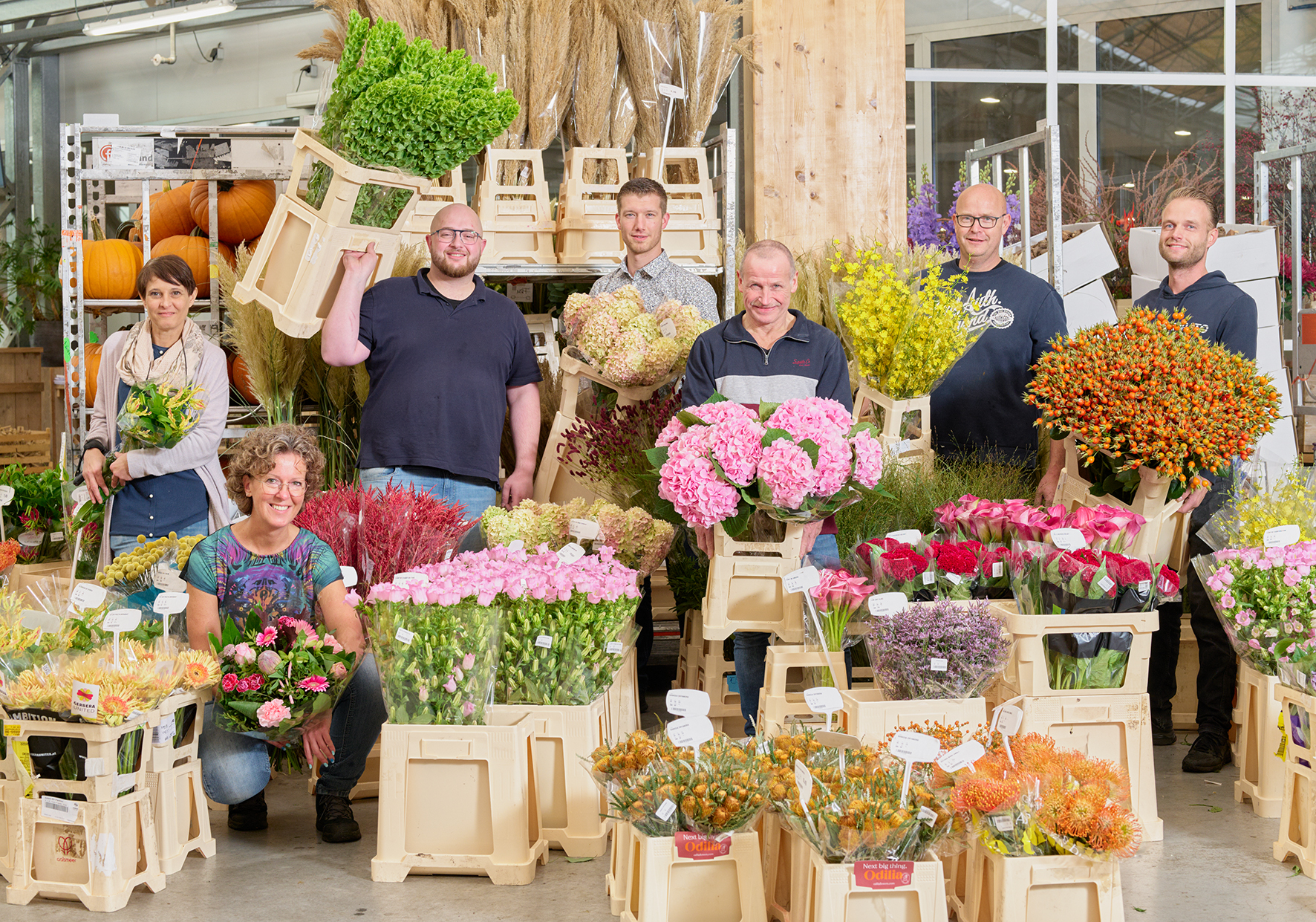 Two people in their thirties have been at the helm of flower wholesaler Zalam in the Plantion wholesale centre since this year. Kudret Aksoy and Rick Meeuwsen will continue in the line of founder Adriaan Baltus. They think ahead. "We want to answer all the questions that customers ask us."
You would think that taking over a company must have caused a few sleepless nights. But nothing could be further from the truth. It couldn't go fast enough for the new owners of Zalam. Kudret Aksoy (31): "The fire and longing for responsibility had been burning in me for so long. We have been working here for six years and we've been involved in every decision from the start. I was already living this, the actual takeover was just a formality."
Of the two owners, Aksoy is the most outspoken entrepreneur. You can see and hear it immediately: he always wants to move forward and preferably as fast as possible! Rick Meeuwsen (33) has a business administration background and is undoubtedly just as ambitious. But he also keeps things balanced: "We are opposites and complement each other perfectly. Together we have achieved so much already, it is only logical to continue along this road. A fantastic opportunity!"
Cash & Carry
With their arrival at Zalam in 2015, fresh blood flowed through the company and, over the following years, the foundations for the future were laid. An important step was the opening of a 'shop' in the wholesale centre. Until then, Zalam had mainly been functioning as a commission agent, but now the focus was shifted to Cash & Carry.
Meeuwsen: "Florists generally want a standard range, often with something special included. Previously, they had to hand in an order list, but now they can choose from the large assortment in the Cash & Carry or in our web shop. This gives our buyers more freedom to look for special products that will really surprise their customers. A win-win situation."
Added value
Both have grown up with the Internet. It is therefore not surprising that the number of orders via the webshop is rising spectacularly. And recently they started the online platform Boekethuis. Yet, they think they can also make a difference with their physical location. Aksoy: "Efficiency is achieved by working online, but added value can only be delivered physically. For example, with surprising presentations in the Cash & Carry and by seeing and talking to the florist. Soon, this will be the only place left for the florist. That is why Plantion is the future. We believe that this marketplace will become the buying centre of the floriculture industry."
More business activities
To make that happen, there is still some work to be done. Meeuwsen: "We are the only one in the area with five shopping evenings, and our customers greatly appreciate that. We are also thinking about opening on Sundays. And eventually, we will transition to 24/7. So we are nowhere near finished yet." Aksoy: "Customers should be able to shop and be inspired at any time of day or night. We would also like to have a catering facility in the wholesale centre, where you can enjoy a nice sandwich. There should be much more going on here, the more the better! It's important to join forces to make our dreams come true. We would like to play a pioneering role in this."
Big steps
Zalam himself is bursting with ambition. Aksoy: "We are always setting new goals and, once we have achieved something, we are already looking ahead again. That's in our DNA, it has to be. At Zalam, we stand our ground, as we have to in such a competitive market." Meeuwsen: "Our passion lies in the relationship with our customers: how can we improve the business for them. That's why we want to grow, so that we can answer all customer queries." Aksoy: "This is just the beginning. We are going to take many big steps."
New: Boekethuis
This autumn, Zalam will launch the online Boekethuis (Bouquet at home) concept. Consumers can order bouquets via www.boekethuis.nl and have them delivered anywhere in the Netherlands. According to Rick Meeuwsen, with this concept, Zalam is seeking to connect with the florist. "We want to provide the florist with orders with a better margin. They may compose the bouquet themselves and add their company logo." Kudret Aksoy: "This way, we will both profit. The local florist will stand out positively and recognisably to the recipient. And we can keep an even better eye on what is going on in the market." Through Taste the Green, influencers are regularly put to work promoting Boekethuis.