Plantion continues to look beyond today in spite of lower turnover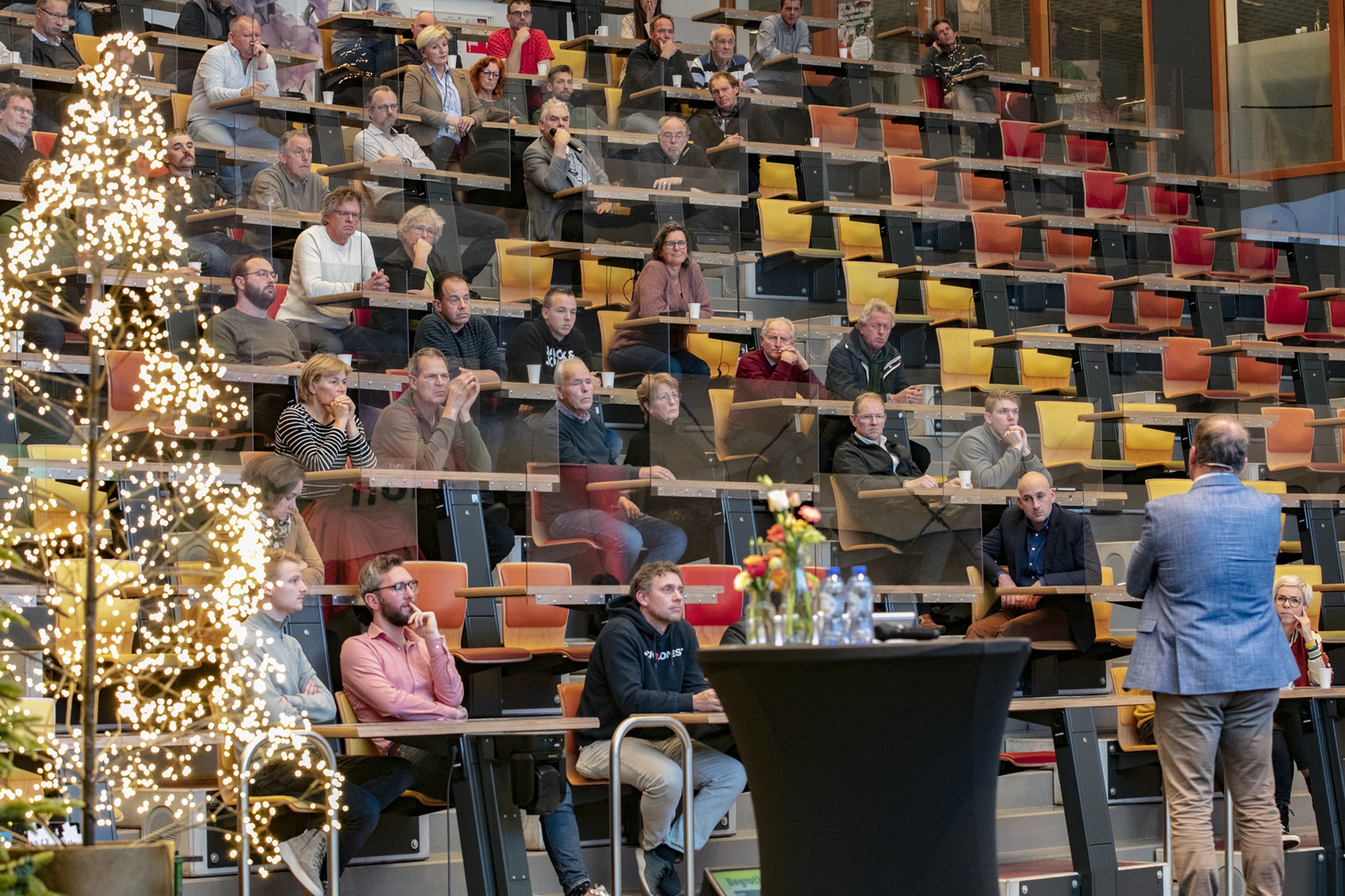 In an unpredictable period for the entire industry, Plantion is factoring in a 5 percent decline in its 2022 annual sales total. For 2023, Plantion assumes recovery and further investment in new service concepts, although a Plan B has been prepared. Last night at Plantion's General Members' Meeting, this was explained in detail. At this meeting, the outgoing Executive Board member Harry Beijer and Trade Committee member Hans Lamers Sr. were presented with the Plantion Gold Pin for their great and longstanding commitment.
The figures presented through Week 48 showed that clock auction sales in 2022 in particular suffered from the profound effects of the war in Ukraine, the hot summer and high transportation costs from, among others, Africa. Mediation and Green Centre Plantion managed to stabilise their sales.
Plantion Purchasing Centre
After the successful year 2021, Plantion began 2022 with full optimism. In February, the multi-year plan 'Renew, Connect, Inspire' was presented, announcing investments in services and facilities to make Plantion a customer-oriented 24/7 purchasing centre. But the ink on the plan was hardly dry when conditions changed dramatically, resulting in an unpredictable market, rising costs and inflation.
Innovative Concept
In these challenging circumstances, Plantion gained experience with an innovative concept combining digital and physical. This enables Plantion to offer an ongoing range of more exclusive products other than those in the clock auction. Purchasers can view the products at their own convenience, order them through the online shop and pick up directly or have them delivered. This innovative concept will be expanded to Plantion's green centre in early 2023.
New Supply Hall
In June, the Board gave the go-ahead for a large addition that will serve as a new supply hall, housing additional box rooms and facilities such as cold storages. The hall will be completed in the summer of 2023 and will serve as a key link in the future logistics services of Plantion's purchasing centre.
Marketing Support
In line with the policy plan, Plantion focused its marketing efforts on direct customer support, right down to store floor level. Taste the Green linked Plantion buyers to influencers. Plantion had stands at trade shows, and campaigns were created with in-store promotional materials. There was also a first: an in-house fair was organised, the Plantion Inkoopdagen (Purchasing Days).
More Engagement
Under the 'engagement' theme, several regional meetings were organised for suppliers in 2022. In small settings, information is exchanged in an informal way about the performance of the cooperative. This results in more engagement and points for improvement that Plantion can then assess and implement. The success of this approach was confirmed by an NCR member engagement survey this fall. To also get young buyers, suppliers, transporters and employees more engaged with Plantion, a Raad van de Toekomst (Council of the Future) has been established. It provides advice and draws inspiration from other cooperatives to do so, among other things.
Target 2023
For 2023, Plantion's ambition is to continue innovating its services and facilities. The target is 5 percent sales growth, with stabilisation of the clock auction and continued growth of digital sales. Given the unpredictability of what happens in the coming months and its impact, Plantion has also prepared a 'Plan B'.
Executive Board Change
The presentation of the Plantion Gold Pin marked the retirement of valued Executive Board member and vice Chair Harry Beijer. He joined the board of Veiling Oost Nederland auction in 2006 and then became a member of Plantion's Executive and Supervisory Boards. Esther Willemsen-Meeuwsen of the Escaro company was introduced as his successor. Hans Lamers Sr. was also honoured with a Plantion Gold Pin. He bids farewell after forty years of membership in the buyer delegations of Veiling Oost Nederland and Plantion.